---
Do you Hate your Bunions & want to Avoid an Expensive Surgery? A Painless, All-Natural Remedy is Finally Here!
Do you hate your bunions & want to avoid an expensive surgery? You aren't alone in this!
Up to 1 in 3 Americans suffers from a hallux valgus (bunion) symptom.
Our Corrector has successfully helped more than 90% of the bunion sufferers.
Benefits:
Extremely Effective -  Successfully helped 90% of the bunion sufferers. In case the bump is already formed, these sleeves allow to ease soreness from rubbing and prevent calluses, blisters, and corns. 

Pain Relief - Our toe bunion corrector includes gel cushion inserts (also known as orthotic bunion pads) which protect the big toe and pinky joints from friction, irritation, and inflammation.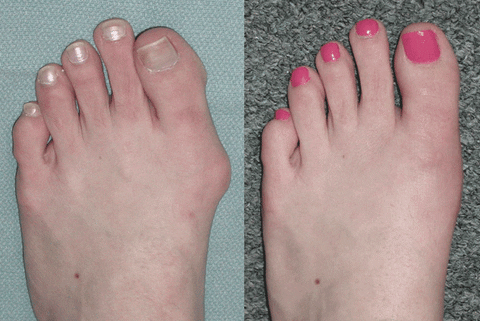 Comfortable & Easy to Use - Wear it in place of socks below your shoes! To avoid rubbing and safeguard against pain, place the sleeve on your foot as shown in the picture. Wear both during the day and at night to keep your toes straight and reduce pain.
High Quality - High-quality, odorless fabrics are soft and easy to wear. The gel pads are correctly and consistently placed on the sore surfaces thanks to the textile shells. all common foot sizes. Suitable for everyone.
As seen on Pinterest, TikTok, Snapchat & Instagram. Our Orthopedic Toe Bunion Corrector is the Best, Affordable Alternative to Eliminate Toe Pain & Get Your Toes Back To Their Healthy Position!
Does Your Orthopedic Toe Bunion Corrector Really Work?
Without requiring surgery, our toe bunion corrector can address your foot issues in the simplest, most affordable manner available. Our toe bunion corrector gently realigns toes to their proper alignment when used. It fits any shoe comfortably and effortlessly as an insert.
How To Correct Your Bunions:
Start off by wearing them for 20 minutes each day

Gradually increase that time by 5 minutes each day until you become accustomed to the pressure.

You can wear them all day long till your bunions are fixed if you become used to the pressure and feel comfortable with them. Be gentle and move your toes slowly.
Specifications: 
100% Hygienic and Hypoallergenic 
Size:  5.51 x 5.12 x 1.18 Inch
Package Includes:
Shipping & Guarantee:
Love this Orthopedic Toe Bunion Corrector? Order it and get yours within 7-15 business days. We provide a full 30-day risk-free trial to ensure your satisfaction.
Update:
Due to the flash sale, we are officially running low on the Orthopedic Toe Bunion Corrector; please place your order while stocks last.