---
Help Your Pet Stay Healthy By Cleaning Their Paws Regularly!
Do you always find it challenging to clean your pets' paws?
You love your dog, but you don't love all the muddy paw prints he trails through your house and over your car seats. After a fun day at the park or even just a brisk walk, your furry friend's paws can get very messy quickly. Pet Paw Cleaner is the ANSWER to your question.
From now on, give your furry partner the ultimate cleanliness with this Pet Paw Cleaner!
Less Mess, Less Worry!
Whether they're about to hop back into your car or just want some extra security knowing you won't have printed all over the floor, this Pet Paw Cleaner offers a thorough cleaning and is easy to tote around.
It is designed with you and your fur baby in mind; the plunger cleans your dog's paws quickly, reducing indoor mess and floor stains and preventing paw irritation from contamination.
Benefits:
Soft Silicone Bristles Do The Job Brilliantly - Silicone bristles are one of the essential features of this Pet Paw Cleaner. They're incredibly soft and flexible, so they won't scratch your dog's paws or make them feel uncomfortable.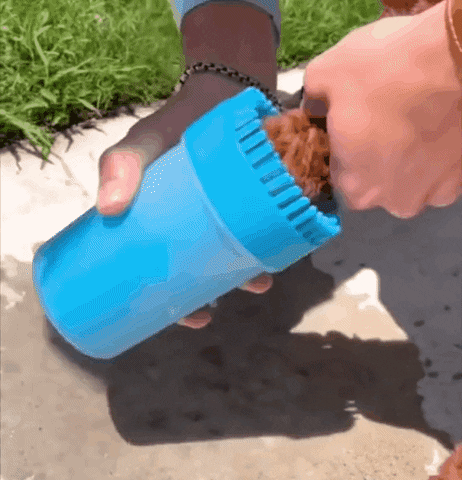 Provides A More Deeper Cleaning - 

You'll find this Dog Paw Cleaner with finer, denser brush-like bristles. It is better at getting through long fur, so it generally provides a deeper clean for medium-and long-coated dogs. It is also soft to the touch so as not to cause your dog discomfort.
Super Easy To Use - The Pet Paw Cleaner is super easy to use, which is probably why it's so popular. Just insert your pups' dirty paws one at a time, let the silicone bristles do a little scrubbing, and wipe those freshly cleaned paws with a dry towel.
Easy To Clean - The soft bristles get between your dog's pads to loosen and remove dirt, mud, and even road salt. As an added benefit, this paw washer ultimately comes apart for easy cleaning and is dishwasher safe.
How To use It:
Add warm water to the top row of bristles.

Insert a dirty paw and gently move it in and out of the plunger while the bristles wash away the dirt.

Use a towel to dry each soggy foot and pour the dirty water.
Package Includes:
1 * Pet Paw Cleaner
SHIPPING & GUARANTEE:
Love this Pet Paw Cleaner? Order it and get yours within 7-15 business days. We provide a full 30-day risk-free trial to ensure your satisfaction.
UPDATE:
Due to the flash sale, we are officially running low on the Pet Paw Cleaner; please place your order while stocks last.