---
Stay Healthy, Active & Cool with the #1 Water Bottle of 2022!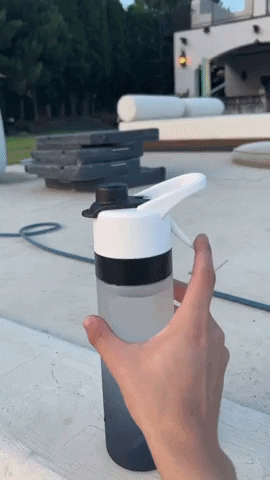 Do you find it challenging to keep yourself hydrated all the time?
Meet Mist Spray Water Bottle, which is a high-pressure hydration spray bottle that combines hydration with a continuous spray for cooling and cleaning in a fun, easy-to-use design.
Spray, Mist & Repeat! Stay Hydrated & Fresh All Day!
You can clean, cool off, hydrate, and have fun with misty spray. Press the trigger, and the cool misty spray cools down the things.
This water bottle not only allows you to drink from it but also allows you to use it as a mister or water sprayer. Use it to mist yourself after a long run or spray down your dog while out on a walk on a hot day. You can use it for different applications.
Benefits:
Mist Spray Function - The Mist Spray Water Bottle has an added mist spray that is perfect while camping or on a hike to cool down. Simply press the little handle, and the spray mode will be on.
Lightweight, Easy To Use - Mist Spray Water Bottle gives you all the motivation you need to achieve your daily intake. It's lightweight and easy to use with one hand, so you can effortlessly perform multi-tasks.
BPA & Toxin Free - Mist Spray Water Bottle is made of high-quality, eco-friendly, reusable, leakproof plastic. This water bottle is 100% BPA & TOXIN FREE, odor free, and healthy for your daily water drinking.
Portable & Ideal Gift - The Mist Spray Water Bottle comes with a handle making it easy for on-the-go hydration. It is an ideal gift for your beloved ones to help them keep hydrated and healthy.
Package Includes:
1 * Mist Spray Water Bottle
SHIPPING & GUARANTEE:
Love this Mist Spray Water Bottle? Order it and get yours within 7-15 business days. We provide a full 30-day risk-free trial to ensure your satisfaction.
UPDATE:
Due to the flash sale, we are officially running low on the Mist Spray Water Bottle; please place your order while stocks last.