---
No More Cold Feet This Winter - Keep Your Feet Warm, Dry & Toasty All Season!
Are you looking for a pair of socks that keep your feet warm during the cold season without breaking the bank? Looking to wrap your feet in the ultimate warmth & coziness?
Our Slipper Sherpa Socks are the perfect socks your feet need during the cold season. Plus, they act as sock shoes, and you can wear them all day inside your home, thanks to their V-shape sock mouth design and non-slip sole.
Benefits:
Keep The Heat Inside For Extra Warmth - The fleece traps the heat effectively and warms your feet in no time. The secret behind the maximum warmth is the thickened cotton wool inside, keeping feet nice and toasty.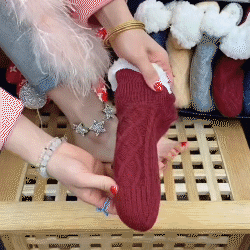 Say Goodbye To Cold Feet Once & Forever: Warm, Cozy, And Soft - Our Slipper Sherpa Socks provide excellent thermal protection while offering extra comfort. These are so soft, warm, and fuzzy that you feel like you're pampering your feet every time you put them on.
Improves Blood Circulation - When you wear them before bedtime, these socks enhance warmness and blood circulation in the feet. The moisture-wicking fabric keeps your feet dry and comfortable.
"As seen on TikTok, Pinterest & Instagram. Our Slipper Sherpa Socks are the perfect addition to your life to keep you warm and cozy this winter!"
Your Feet's Best Friend - These socks are skin-friendly and breathable, moisture-wicking and odor-fighting, soft to the touch, and comfortable to wear.
No More Looseness Or Sliding -These warm & cozy socks are carefully tailored to fit perfectly without loosening or sliding. The socks are stretchy, made of a V-shape sock mouth, and can easily roll up and down.
Non-Slip Sole - The anti-slip grips on the bottom are made of natural silica that prevents you from slipping. These socks are designed for exercise & perfect for home, gym, hospital, or travel to be a hygienic alternative to bare feet.
Specifications:
Material: Polyester fiber+cotton
Weight: 130g
Package Includes:
1 pair * BriteFinds™ Slipper Sherpa Socks
SHIPPING & GUARANTEE:
Love these Slipper Sherpa Socks? Order it and get yours within 7-15 business days. We provide a full 30-day risk-free trial to ensure your satisfaction.
UPDATE:
Due to the flash sale, we are officially running low on the Slipper Sherpa Socks; please place your order while stocks last.