---
Having a hard time fixing or removing screws in inaccessible areas of your home? Extend your reach with the Flex Drill Bit Extension!

 

Why is this the perfect Drill Bit Extension for me?
Flexible & Safe -

 The Flex Drill Bit Extension can be bent, twisted and rotated at many different angles. It is extremely flexible and offers you accessibility to very narrow spaces. The flexible shield protects your hands while the internal shaft rotates freely and perfectly completes your work efficiently.
Versatile -

This flexible drill bit extension is an important tool for

ALL types

of hardware maintenance and repair. It will reach all the tough spots your regular tools can't reach and is compatible with all types of drill and screwdrivers.

 
High Quality & Durable -

 This flexible drill bit extension is made of high carbon steel and plastic, which is exquisite craftsmanship, eco-friendly, sturdy and durable to use for a long time. You can use it repeatedly. Let this flexible drill bit extension tool help you and never stress about unreachable screws.
Excellent Gift - The

Flex Drill Bit Extension

is a great gift on any occasion. They will love you forever!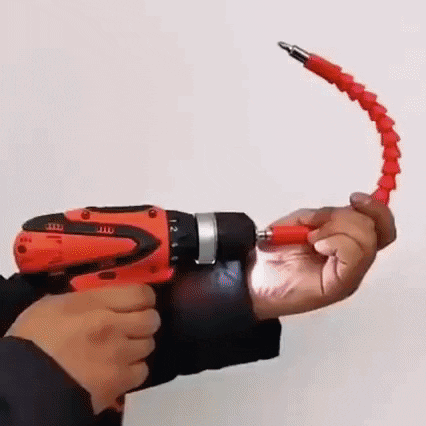 Frequently Asked Questions
How do I use this Drill Bit Extension?
Remove the bit from your cordless screwdriver and install the 1/4" hex end. Add any 1/4" hex screwdriver bit into the other end. Bend the Drill Bit Extension to reach where you need to work and operate your screwdriver or drill as normal.
What is the length of this Drill Bit Extension?
The length of our Flex Drill Bit Extension is 11.6" (29.5cm)
What is the shank size?
The shank is a 1/4" hex shank. This fits a wide variety of drills and drivers. It should not be used on any power tool in excess of 400 RPMs or 3Nm (approx. 27 in-lbs) of torque.
How long does delivery take?
After you place your order, the item will be delivered to you within 7-15 days.
Do you have a money-back guarantee?
Yes. If for any reason you are unhappy, contact us within 30 days of your purchase to receive a full refund. 
Package Includes:
1x

Flex Drill Bit Extension