---
The #1 Wireless Charging Lamp Perfectly Designed To Bring Your Ultimate Relaxation!
Turn your space into a cozy & relaxing lounge with this 4-in-1 Wireless Charging Lamp!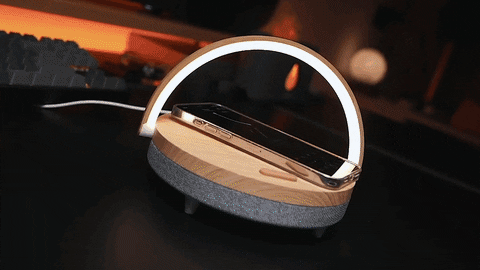 Say goodbye to unreliable, boring wireless chargers. Made with ultra-thin wireless Qi charging capabilities, this 4-in-1 charging lamp will charge your phone, brighten up your space and and play your favorite tunes. Bring your wireless charging lamp with you anywhere you go and always enjoy great vibes!

Designed with a beautiful & unique look, our charging lamp is a multi-purpose gem for your relaxing and cozy lifestyle. We not only focused on the aesthetics, but also took into account functionality. Lightweight, unique, fast charging & most importantly, relaxing!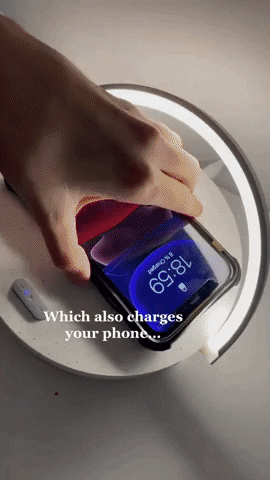 BENEFITS:
Unique Design: wireless charger, bluetooth speaker, phone holder and desk lamp all in one! This 4-in-1 charging lamp will be the finishing touch that lights up your home. Designed and crafted to leave you in awe!
Faster Charging: combined with a

 

Qualcomm quick charge plug, this 4-in-1 Wireless Charging Lamp can charge your phone

 

faster

 

than a standard cable and better

 

than

 

any charging pad on the market.
Wireless Speaker: perfectly optimized to, delivering crystal clear full-range sound all while charging your phone.
Excellent Gift:

 

perfect gift for yourself, friends or loved ones! Guaranteed to brighten up and bring soothing vibes to your space!
SPECIFICATIONS:
Output Power: 10W
Size: 7.5" x 7.5" x 9.96" (191mm x 191mm x 258mm)

Here is the complete list of mobile devices that are compatible with the BriteFinds 4-in-1 Wireless Charging Lamp:
Apple: iPhone X, iPhone XR, iPhone XS, iPhone XS Max, iPhone 8, iPhone 11, iPhone 12, iPhone 12 pro, iPhone 13 (mini, pro, pro max)
Samsung: Galaxy S6, Galaxy S7, Galaxy S8, Galaxy S9, Galaxy S10, Galaxy S10+, Note 8, Note 9, Note 10, Note 20
Huawei: Mate RS, Mate 20 Pro, Mate 20 RS, Mate 30 Pro, Mate 40 Pro, РЗ0 Рго ,P40 Pro
Xiaomi: MIX2S, MIX3, Mi9, Mi10, Mi11 / OPPO Ace2 /Vivo X70 Pro+
BATTERY CAPACITY:
- Built-in battery, it supports lighting and Bluetooth speaker wireless using.
- LED night light can last at last 24H at dim light.
- The large battery can support Bluetooth speaker work over 5H.
SHIPPING & GUARANTEE:
Love this  4-in-1 Wireless Charging Lamp? Order it and get yours within 7-15 business days. We provide a full 30-day risk-free trial to ensure your satisfaction.
UPDATE:
Due to the flash sale, we are officially running low on the 4-in-1 Wireless Charging Lamp, please place your order while stocks last.