---
Cleaning Litter Has Never Been More Convenient! Get Your Litter Shovel Today!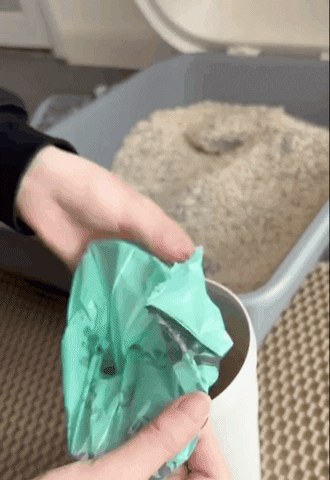 Do you have a furry friend, a sweet cat, and you are worried about cleaning her litter? No need to fret, we are introducing Cat Litter Shovel, which is a detachable bin with a shovel, and you can quickly dispatch off your pet's litter without having an extra strain on your mind.
Save Yourself Time & Effort!
Because you were doing everything separately to clean the lot, keeping the house clean all the time was more challenging, but not anymore. The Cat Litter Shovel has an attached trash can to save you time and unfortunate messes. Cat Litter Shovel's bottom holds the litter bag directly. After you have picked up the litter, you can easily remove it and dispatch it off the bag.
Benefits:
Durable Built, Made To Last - The scoop is made of high-quality plastic that is durable and easy to clean. It can filter the cat litter quickly, preventing the waste of excess cat litter.
Easy To Use - The waste bin and bag make cleaning the litter box more effortless and convenient than using a scoop and separate pack. You will find this cat litter shovel size perfect enough to maneuver in the litter box - especially in corners where your cats tend to pee.
No More Mess - All in one system keeps the mess contained & easy to clean than ever. The bags are right there; you can scoop waste and then turn it upside down, so the waste does not fall out. Lets no more annoying spilled litter ruin your day.
Made To Handle Large chunks Of Litter - Sturdy enough to scoop up even for big pieces. The holes are perfectly sized (6mm), so the clean cat litter can go through.
Easy To Dispatch - When finished, just detach the scoop from the waste bin, tie the waste bag shut, and throw it away! It's that easy.
How To Use:
Remove the bottom bin lid

Put the trash bags in

Close the lid

Turn over the can, and put the bag over

Tighten the shovel and bucket together

Pour the scooped litter into the bucket

Unscrew the litter scooper and take out the trash bag with the litter inside

Tear out trash bags that contain cat litter
Package Includes:
1 * Cat Litter Shovel

2 * Poop bags
SHIPPING & GUARANTEE:
Love this Cat Litter Shovel? Order it and get yours within 7-15 business days. We provide a full 30-day risk-free trial to ensure your satisfaction.
UPDATE:
Due to the flash sale, we are officially running low on the Cat Litter Shovel; please place your order while stocks last.