---
Quickly & Safely Reduce Wrinkles! Feel Your Absolute Best!
Would you like an easy, solid solution and not have to undergo expensive treatments or dangerous surgeries to get rid of wrinkles? With our Anti-Wrinkle Patches you can quickly smooth fine lines and wrinkles. The moisturizing Patches also prevent new lines from forming. Get back that young and fresh look quickly!
The hydrating Anti-Wrinkle Patches are effective against all types of wrinkles: crow's feet, forehead wrinkles, frown lines, lip lines, nose wrinkles, nose-lip crease, marionette line and gravity wrinkles. From the first session on, you can start noticing results!
The Anti-Wrinkle Patches have a  design that allow them to perfectly fit and treat the areas of your skin where most wrinkles occur: forehead, under your eyes, cheeks, mouth, neck and chest. The Patches are comfortable and gentle on the skin.
You can never start young enough with anti-aging treatments! That's why the Anti-Wrinkle Patches are suitable for men & women of all ages and suitable for all skin types. The Anti-Wrinkle Patches are durable and easily reusable. 95% of our customers are satisfied with the results of the Anti-Wrinkle Patches!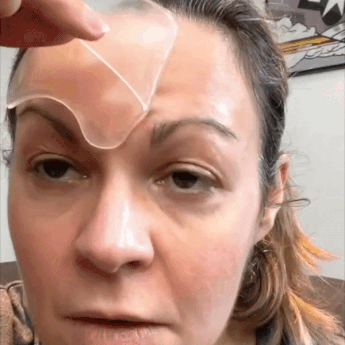 Benefits:
Effective Treatment

Quick & Lasting Results

Reusable!!

Suitable For All Skin Types

Perfect Fit

Works Against All Types Of Wrinkles & Blemishes
How To Use The Anti-Wrinkle Patches
Step 1: Before each use, clean and dry your skin. Make sure there is no makeup residue on your face.  
Step 2: Remove the protective film from the Pad and apply it to the desired area on your skin. For best results, use the Anti-Wrinkle Patches for at least 1 hour. Once skin is used to it, you can use the Patches longer as needed, and can sleep with them on.
Step 3: Clean the Patches with water after use. Let the Patches air dry. When the Patches are dry, place them back on the protective film. This keeps them clean and you can reuse them dozens of times!
PACKAGE INCLUDES
16pcs or 18pcs Immaculate Anti-wrinkle Patches Set
SHIPPING & GUARANTEE:
Love this Immaculate Anti-wrinkle Patches? Order it and get yours within 7-15 business days. We provide a full 30-day risk-free trial to ensure your satisfaction.
UPDATE:
Due to the flash sale, we are officially running low on the BriteFinds™ Immaculate Anti-wrinkle Patches, please place your order while stocks last.